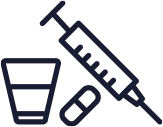 The V1P Teams are able to advise, signpost and negotiate referrals to specialist substance misuse services within our local area for Veterans and/or their family members.
Controlling Drugs & Alcohol
Most people in the United Kingdom drink. The national guidelines recommend no more than 21 units per week for a healthy male and no more than 14 for a healthy female.
If you are worried about your own drinking or drug use there are many confidential support lines that may be able to help.
Scottish Drugs Services are probably the most comprehensive organisation with links into 200 possible points of assistance or support to help overcome a drug or substance misuse problem. They provide an online directory of confidential counseling, treatment and support organisations across Scotland and in your area.
Tests
Alcohol Focus Scotland has a really useful online guide and test to see if your drinking is under control.
Organisations and Advice Lines
Edinburgh and Lothians Council on Alcohol
6 Clifton Terrace
Edinburgh
EH12 5DR

Tel: 0131 337 8188
Lothians and Edinburgh Abstinence Programme (LEAP)
Malta House
1 Malta Terrace
Edinburgh
EH4 1HR
Tel: 0131 332 3228
Alcoholics Anonymous
National Helpline 0845 76 97 555 or email helpline via their website on www.aa-uk.org.uk
---
Useful Websites:
Alcoholics Anonymous
Alcohol Focus Scotland
Lothians & Edinburgh Abstinence Programme (LEAP)
Scottish Drug Services Directory